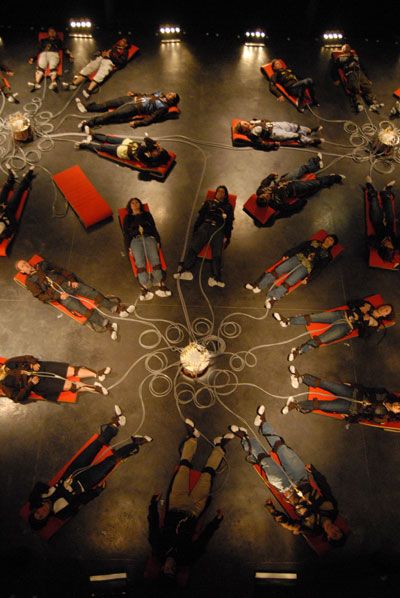 credit: T. Galimard
STiMULiNE is an "audio-tactile" concert for 28 listeners and 2 musicians exploring the tactile dimension of sound and its transmission through the body.
In a room, twenty-eight people equipped with futuristic interfaces make simultaneously the experiment of a synthetic music diffused directly on their body. The device makes it possible to create and transmit remotely tactile feelings.

To attend the concert, each listener wears a "retro-futuristic" overall in which 15 transducers (contact loudspeakers) are laid out : stimuli are being sent individually in each one of these 15 points, so that the vibrations move across the skin while the sound is transmitted to the sense of hearing by osseous conduction. Both musicians are also provided with interfaces at all points similar to that of the audience : listeners and musicians are thus connected by a cable to the same sound matrix.
Plunged in the dark, they get transported by ambient music played live by Julien Clauss and Lynn Pook.
By combining touch and hearing, the original project tries out a new perceptive dimension of the concert and use of the whole body as a perception interface.
In the contemporary context of technically ultraconnected society, STiMULiNE creates «connected isolations» by materializing simultanius intimate and group experiences.
Conception, realisation, composition : Julien Clauss & Lynn Pook

Fourniture design :
Alexandco, Paris

Interfaces :
Sarah Veillon, fashion and costume designer, Marseille

Sound matrix :
Manfred Fox, electronic engenier, Berlin

Production :
Catherine Launay, Berlin & association Cycliq, Paris

Coproduced by :
Festival Scopitone, Nantes (F), Kawenga «territoires numériques», Montpellier (F)

Supported by : Haupstadtkulturfonds, Berlin (D),
Ministère de la culture et
de la communication DDAI
and CNC/DICREAM,
Région Languedoc-Roussillon.